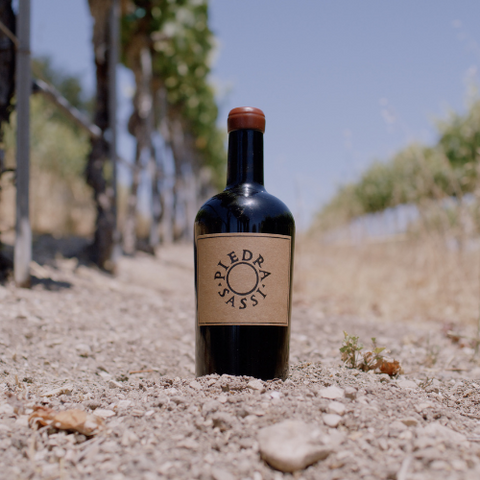 As we approach the release of our 2019 vintage, we wanted to share some insight into how this special year looked for us at Piedrasassi, from vineyard to cellar to bottle. Each year we release just three cuvées from Piedrasassi, all of which come from specific vineyard plots in Santa Barbara County. Our unique corner of the world is an ideal home for cultivating Syrah, and vintages like 2019 make the wines all the more exquisite. We look forward to sharing them with you.
Vineyard Update / In the Cellar
According to Sashi, 2019 was a great vintage across Santa Barbara County, particularly for Syrah. Yields were small (though not as low as 2015), which made for higher quality across lesser amounts of fruit. Although the season presented a few potential disease pressure challenges early on, fruit ended up coming in healthy and complex. 
With regards to vinification, not much changed in the cellar. "We made very classical wines in 2019," Sashi recalls, citing similarities with 2019 Pinots at our other brands. "Our 2019 Syrahs run pretty comparably to our Pinots, in that the 2018s and 2020s are more concentrated, fruit-forward, and early-drinking, whereas the 2019s are more classically framed – and will likely require a bit more patience," he says. Sashi notes that the 2019 Syrahs are lower in alcohol, which is pretty standard for cooler vintages, and that the wines are "very beautiful in terms of their precision and articulation."  
The Wines: Part 1
Piedrasassi wines are organized by the appellation from which they come, with each specific lieu-dit called out on the label: Arroyo Grande, Santa Maria Valley, and Santa Rita Hills. Fruit for our Arroyo Grande Syrah comes from Rim Rock Vineyard, which is an estate vineyard for us, meaning that we are able to fully direct the farming ourselves. "It's a beautiful and amazing site," Sashi says, citing the vineyard's ocean proximity and Chamise (weathered shale) soils as its two most defining traits. "Rim Rock is the only vineyard that we work with that has acidic soils, which is very hard to find around Santa Barbara County. These types of soils are interesting with Syrah, as the granitic soils of the Northern Rhône are also quite acidic," Sashi explains, noting that because of this, this particular cuvée is Piedrasassi's most Rhône-esque bottling. 
The Wines: Part 2 & 3
The second wine in the lineup is our Santa Maria Valley cuvée, which comes from the Bien Nacido Vineyard. Here, fruit comes from two blocks: X Block and Z Block, the former of which is Syrah grafted onto own-rooted Riesling. This vineyard has also been biodynamically farmed since its original planting. "The Santa Maria Valley Syrah is the most restrained in terms of its fruit and most taut in its presentation," Sashi explains, describing it as similar to a high-elevation Saint-Joseph, if thinking of the wines in a Northern Rhône context. 
Last but not least is the Santa Rita Hills cuvée, which is farmed and harvested closest to the winery. "Santa Rita Hills is close to home to me, as it's where Domaine de la Côte is," Sashi says, describing this wine as the juiciest and most fruit-forward in the lineup. "It's kind of like a Saint-Joseph, maybe even Crozes-Hermitage, as it always shows a little bit of greenness from the stem inclusion, but with more fruit," he says. For the most classic, Cornas / Hermitage-inspired wine of the lineup, Sashi cites the Arroyo Grande (Rim Rock Vineyard) cuvée.
Overall Profile
As much as we draw comparison to the great appellations of the Northern Rhône, make no mistake that these wines are absolutely wines of their unique places, which are the hidden gem vineyards scattered across Santa Barbara County. Overall, our Syrah vineyards are not as sunny as those of the Northern Rhône, which generally lead to wines with lower-alcohol than their beloved French counterparts, specifically within recent years. As always, all wines at Piedrasassi are produced from a combination of destemmed and whole-cluster fruit, followed by aging in neutral oak barrels (first year in barrique, second year in puncheons). Wines are bottled unfined and unfiltered.
Why Syrah?
Although the obvious answer would be that Syrah grows superbly in our unique corner of the world, the bigger force behind the lineup is that Syrah is Sashi's favorite grape – and he has a particular affinity for Syrah-based wines with a bit of age on them. "I don't think there's a wine in the world that ages as well as Syrah does," Sashi reveals. "There's a perfume on mature Syrah that, to me, is so much more complex and powerful and interesting than any other grape variety, particularly when there are whole clusters used in the fermentation," he says, citing this as the impetus for including a back-vintage bottle within every direct-to-consumer release. 
"I hold back wines so that our customers can experience our Syrah with age. You can drink them now, but they'll be much better if you hold onto them," he reveals, citing that popping them around the 10-year mark is generally ideal. Should the wines be consumed in their youth, Sashi recommends enjoying them with protein. "Food is very helpful with young Syrah, as the tannins in the wine really soften," he says, noting that protein can help soften the astringency of Syrah-based wines in their youth.
The Future of Syrah in Santa Barbara County
As climate change causes alcohol levels to creep up in wine-producing regions around the globe – the Northern Rhône included – Sashi believes that Syrah has a long future here in Santa Barbara County, mostly due to its marine influence, high altitudes, and overall cooler climate. "For me, lower alcohol Syrahs (12.5-13.5% ABV) are just much more sophisticated," Sashi explains, noting that alcohol can add a perceptive sweetness to a wine (which can be quite pleasant in Pinot Noir or other varieties) – though when it comes to Syrah, the end goal is anything but sweet. 
"Syrah is all about being savory, there's no other wine for a foodie than Syrah," Sashi says. "If you love food, the best option is Syrah, as it has all of those tasty food connotations: tapenade, green olive, black pepper, smoked meat, bacon fat… these are all words we use for Syrah that we don't use for any other wine." Cooler vintages like 2019 really allow for these savory characteristics to shine through at their best. As the world continues to warm, we will carry on hoping for vintages like 2019 in the future – and enjoy the fruits of their being when Mother Nature bestows them upon us. 
To view our current releases, click here.